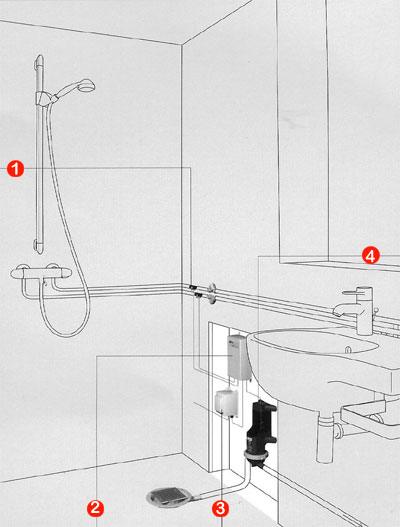 1. Flow sensor
Measures the water flow through hot and cold pipes and transmits a signal to the control unit.
2. Control unit
The unit Initiates the start-up of the pump, regulates the flow rate and controls the pump shut down.
3. Transformer
The transformer unit converts the mains electricity supply (230V A.C.) to the low voltage DC supply required for the pump in domestic bathroom installations.
Technical data;
Double insulated IP45 rated
Fuse size 5.00 amps.
4. Dry-Deck pump
A quiet running waste water pump designed to pump up to 12 litres per minute, The pump has integral non-choke valves and requires no filter.
The pump head, which incorporates the inlet and outlet valves, may be rotated 360° to allow for specific pipework installations.
Technical data;
Voltage 24V D.C.
Nominal Weight 1.6Kg
Pipe connections 22mm
Gulleys
A range of pumped gulleys for shower trays and wet-room floors is available.
In this screeded wet-room, a wet-floor gulley with feet has been installed.